Become a
Franchise Owner
While you may be a fully licensed plumber, joining the Order A Plumber brand is the right move if you want to make your business as big as possible, leveraging our guidance, support and client-facing focus. We know a better way to be a plumber.
Order A Plumber provides plumbing service, repair, and bathroom remodeling. Franchise owners who join our brand will be able to perform standard plumbing repair and installation services, ranging from pipe repair and installation, including domestic water piping, sanitary piping, natural gas piping, drain cleaning, hydronic piping, gas distribution piping, and fixture installation.
Why Own & Operate an Order A Plumber?
Our brand is straightforward, client-focused and our reviews are the best in the biz.
We have available territory across the country, no matter where you are, we are ready to grow!
Order A Plumber has simple to follow processes that make a difference; learn our trade secrets to not only launch but scale your business quickly.
Our plumbing service and repair is reliable and trustworthy proven by positive Google and Facebook reviews – we will teach you how to accomplish this and help you earn more clients than local competition.
We know Master Plumbers don't want to be in the field all day, every day, for their entire career, learn our proven methods to add technicians, acquire clients and increase revenues.
Are you an existing plumber and looking to grow but stuck at the same revenue?
Join Order A Plumber and gain access to our experience and support, we mentor owners to help take their plumbing services business to the next level.
Whether you are a start-up or existing plumbing service provider, the investment details needed to join Order A Plumber are available and we share financial performance history (Item 19) in our Franchise Disclosure Document (FDD) to help you evaluate the opportunity versus the costs to launch.
Have any questions?
Give us a call at 631-234-0687!
Our Core Values & Philosophy
Motivation

Integrity

Innovation

Honesty

Reliability

Efficiency
Our Mission

& Vision
Order A Plumber for every drip, in every home, in every neighborhood.
Through preparation, we will put our clients first, we will respect their time, we will care for their property, and we will provide a valuable service in every home, in every neighborhood.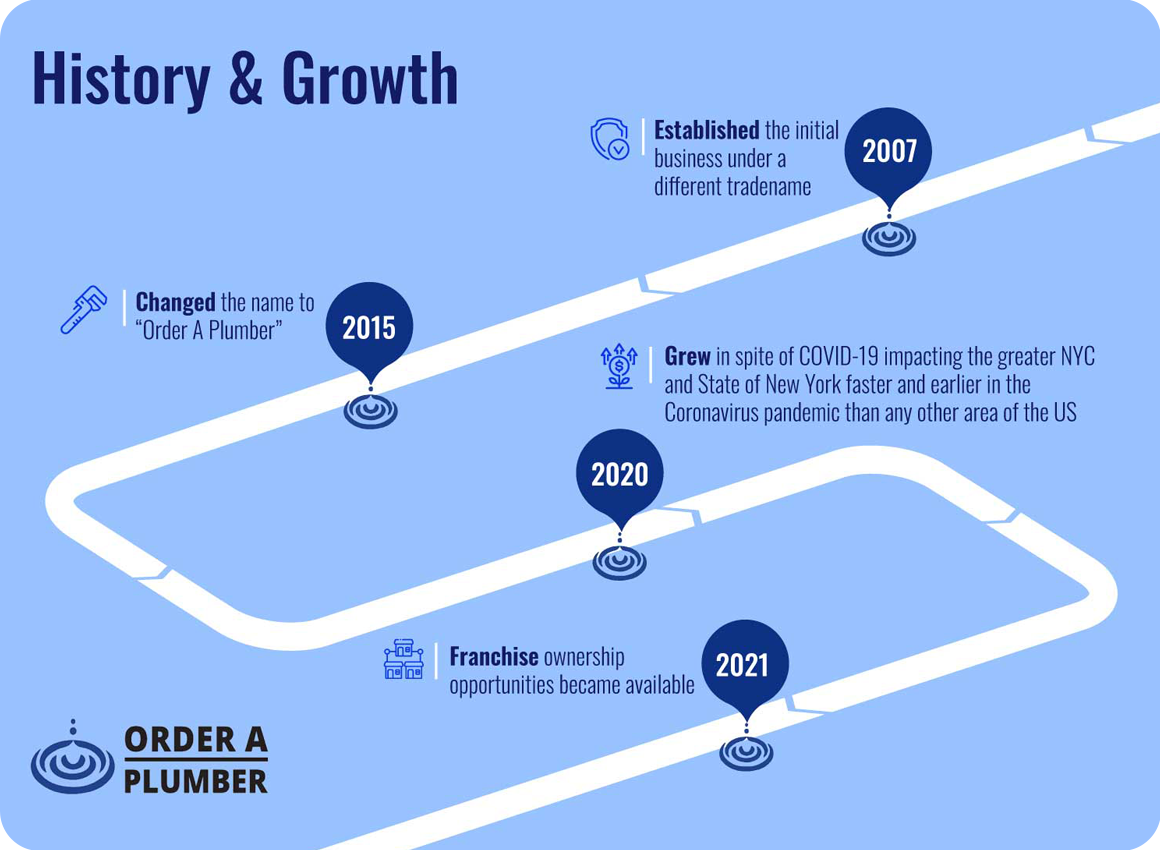 This chart outlines some key areas of the initial and ongoing investment. We help Order A Plumber owners to launch their new office quickly.
The Initial Franchise Fee includes the Order A Plumber 1 week pre-opening training program conducted in the Islip, NY, Long Island area. This covers daily operations, call center support policies, technology and systems, our advertising and local marketing tactics, financial management and managing the business. You will learn our best practices and proven systems to not only launch, but to develop your plumbing services business. We provide additional training and support in your territory as you launch.
Start Up Investment

$83,600 - $140,500

A protected territory of at least 300,000 people in defined zip codes.

Initial Franchise Fee

$45,000

Included in startup range.

On-going Royalty

6% of Gross Sales

Paid Weekly.

Brand Development Fund

2% of Gross Sales

Invest $2,500/month in local advertising and marketing in year 1, then 5% of Gross Sales thereafter.

Call Center

Fee per call

Support for franchise owners to schedule and communicate with clients.

Grand Opening

$7,500 - $15,000

Included in startup range to help launch the business.
Frequently Asked Questions
Q. What are the startup costs and what do they include?
A. Currently, the range of investment is from $83,600 to $140,500 which includes the $45,000 initial franchise fee. Other estimated costs include 3rd party professional advisory fees, insurance and 3-months of working capital.
Q. Will I have my own website?
A. All Franchise Owners will have a mobile friendly, branded website as part of their ownership with Order A Plumber.
Q. How much space do I need for this office?
A. Your business can be operated from a home-office. If requested, we will review leased space for your Order A Plumber business.
Q. How long does it take to launch?
A. You should be able to launch in as few as 3 months, it depends on how quickly you complete pre-opening steps, acquire your branded vehicle(s) and attend training.
Q. Do I have to be a Master Plumber to own the business?
A. No, but we want our owners to be actively involved. Either an owner or designated manager may hold the Master Plumber licensing required to operate the business. Become the general manager, overseeing day to day operations, marketing, business development and management.
Q. Can I own more than one territory?
A. Yes. We believe some owners will operate multiple territories beyond the initial 300,000 in population. We offer discounts on initial franchise fees for owners who commit up front to additional territories.
Q. How many employees are needed to operate the business?
A. Typically between 2 and 4 employees depending on number of vans in service and client demand.
Q. Do you offer incentives to Veterans who want to join the brand?
A. Yes. We offer a 15% discount on the initial franchise fee to veteran candidates who have been honorably discharged from the U.S. Armed Forces.
Q. How many vans are needed to operate the business?
A. Just one to start. Add more as you expand and grow to meet demand in your protected territory.
Q. How much will the business make in a year?
A. We share our Financial Performance Representation, called an Item 19 in our Franchise Disclosure Document which highlights affiliate performance and history. This can be a useful tool to help you evaluate the revenue potential for your Order A Plumber business.